Microsoft announced two smartphones for the upcoming holiday season and that is Microsoft Lumia 950 XL and standard Lumia 950. The Lumia 950XL is a larger version of the Lumia 950. The robust size of the handset is attributed to the 5.7-inch 1440 x 2560 OLED display which leads Microsoft's mobile platform into the Quad-HD world.
The screen is super sharp and highly detailed. Power is preserved as there is no need to press the power button to turn on the display. The OLED screen seems to represent all elements of the technology. For instance its crisp and wide viewing angles, iridescence, and punchy looking colors. In the dark, its brightness output appears potent enough to make the screen visible to our eyes.
Lumia 950 XL​ Interface

It is one of the first to be running Windows 10. Users currently using a Windows Phone 8.1 device will transition easily to the new platform. Its new Continuum feature is amazing! It turns the smartphone to a fully functioning computer with the help of this optional accessory dock that packs a USB and a couple of display ports. We have the desktop experience with this Continuum. As a result, mobile apps like the Microsoft Office suite run identically similar to the desktop experience.
Processor and Memory

The difference between Lumia 950 XL and Lumia 950 is not very big it is caused by the different charging options. Lumia XL is powered by an octa-core Qualcomm Snapdragon 810 chipset – whereas the Lumia 950 sides with the hexa-core Snapdragon 808 SoC. There comes a 32GB of internal storage with the phone. Remove the rear casing to access it
Lumia 950 XL​ Camera

In the rear, there comes a 20-megapixel 1/2.4" camera sensor, which features a f/1.9 aperture lens with three LED flashes to illuminate better the scenery, while also eliminating red eye.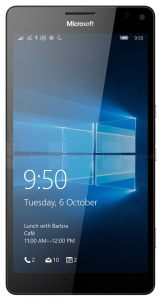 Lumia 950 XL​ Expectations

The 950 XL has more efficiency and has some notable changes as compared to the 950 standard due to its Snapdragon 810 SoC. its screen is large, and a durable high capacity battery (3340 mAh). All these functions will go for $649 when it's released. Considering the price of Note5 and iPhone6 Plus, the 950 XL will be sold at a lower price.Windows 10 might truly help this handset reach higher acclaim due to some of its unique features such as the Continuum, in how it packs the power of a PC in the size of a smartphone.