Pinger TextFree requests permission to access your contacts, after downloading the application after which you sign up for an account your gender, email, age, password and username. After doing that, the application will then ask you to use your current location. Then, it is mandatory for you to select a phone number like with such applications as WhatsApp and Viber.
On the other hand, PINGER TextFree provides you the opportunity to sync it with your Facebook account – this is a feature that Google Hangouts does not provide.
PINGER Interface

Pinger TextFree messenger app comes with an undemanding, blue and white home screen that represents your inbox. A top navigation bar contains icons for Compose, Options, Keypad, Contacts, Recents and Favorites.
An annoying ad bar is located at the bottom of the app that clutters the already clean interface and even takes up more than half of the display within discussions at times. However, the TextPlus comes with a bottom ad bar which does not disturb conversations.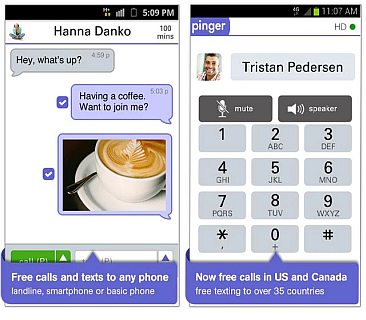 Favorites – have spots for nine contacts. All you need to do is to just click on a rectangle and type the name of a friend to add him to the list.
Recents – list your most recent calls
Contacts – sort first by Facebook friends followed by the contacts of your phone.
Keypad – allows you to type in a number manually, perhaps for someone whose number is not saved in your Contacts.
Options – include info about your account, together with the number of your remaining minutes as well as the aptitude to conceal ads for $5.99 per year.
Compose – allows you to draft a message.