Xiaomi at all times makes it to the features for leaks, gossips and presentations that it has lined-up. Currently, having unveiled the Redmi 4A smartphone in India for Rs 5,999, the firm already has new smartphones scheduled for unveil. Rumors about its next-generation tablet (the Xiaomi Mi Pad 3) have been spreading round. At the present, the latest rumor propose that Xiaomi will be unveiling two Mi tablets; the Mi Pad 3 as well as the Mi Pad 3 Pro. The tablets have spread online in China disclosing a few more specs.
The newest leak reveals that the Mi Pad 3 will have a 7.9-inch screen. Though, the screen resolution of the phone is unknown at the instant. The tablet will be matched with 4GB of RAM and will as well come in two distinct storage variations; a 64GB variant and a128GB variant. On the software side, the phone will operate on Android 7.0 Android Nougat initially. The price of Mi Pro 3 for the 64GB option is anticipated to be approximately Rs 12,300 whereas the 128GB option is priced at approximately Rs 15,000.
Conversely, the Mi Pad 3 Pro, as the title propose will be the superior option of the two. It will have a 9.7-inch screen, though the resolution is yet to be disclosed. At the heart, it will be run by the Intel 8750 chipset which is combined with 4GB RAM. Simply like the Mi Pad 3, it will also come in two options, one with 64GB internal memory and 128GB of internal memory option. While the Mi Pad 3 Pro approximately costs Rs 16,000, there are reports that the it will run on the Windows 10 OS. Away from this, no other information of the two are known at this moment.
To put the specs into view, Xiaomi Mi Pad 2, which was unveiled in 2015 displays a 7.9-inch (2048×1536 pixels) IPS screen with 326ppi and is run by a 2.24GHz Intel Atom x5-Z8500 quad-core processor paired with an Intel HD GPU as well as 2GB of RAM. It came with 16GB and 64GB variants, while camera wise, it contains an 8-megapixel back camera with a 5-megapixel front camera.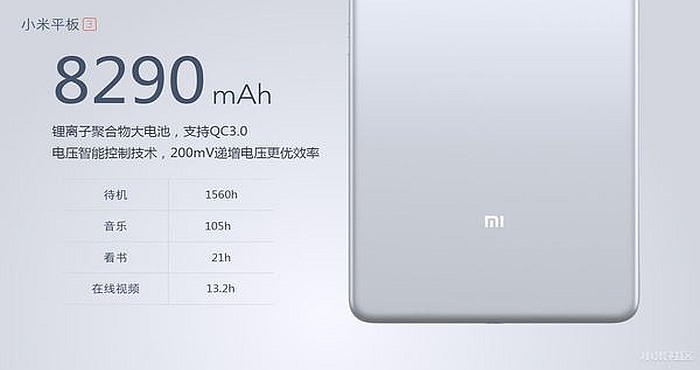 If rumors are true, the Mi Pad 3 and Mi Pad 3 Pro will be unveiled together with Xiaomi's 2017 flagship phone, the XiaomiMi 6. The Mi 6 is said to have a 5.2-inch HD TFT LCD screen. The phone is anticipated to be launched in two chipset options; one is said to be run by the MediaTek Helio X30 processor, while the other option will be run by the Qualcomm Snapdragon 835 processor, paired with a 4GB of RAM as well as a 128GB of internal storage capacity.
Even if there is no formal word, Xiaomi is anticipated to launch the Mi 6 and these tablets on April 16.