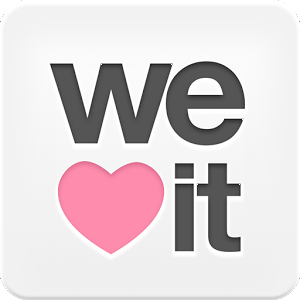 WeHeartIt was started by Brazilian founder, Fabio Giolito exclusively for himself in 2007. He wanted to use this Pinterest-like service to collect really inspiring images from the Internet. His friends found this interesting and they also wanted to use the tool, hence he set up separate user accounts for them.
The popularity of this platform grew and soon it became the likes of Pinterest, Twitter and Whisper. Today, the platform is open to all who want to share and collect interesting images online. People can also use it to express themselves using pictures. About one third of the user activities in WeHeartIt is related to image searches.
Similar to Whisper, people use this platform to share images through which they reflect how they are feeling in that moment. It enables users to write text over images to lend voice to their feelings. If you would like to add a song to express your feelings, you may do that too.
Wehearit for Smartphone
Download Wehearit for Android
Download Wehearit for iPhone
Not Available for Windows Phone
Not Available for Blackberry
Not Available for Nokia Bada
Not Available for Fire Phone
Not Available for Firefox OS
Wehearit for Tablet
Download Wehearit for Android tablet
Download Wehearit for iPAD
Not Available for Windows Phone tablet
Not Available for Blackberry tablet
Not Available for amazon tablet
Not Available for Firefox OS tablet
Wehearit for Desktop
Login Wehearit PC
Download Wehearit for Windows
Download Wehearit for Windows 8
Download Wehearit for Mac OS
Download Wehearit for Linux